Available Puppies
Available Labradors
Happy December! We have lots of exciting things going on here at the ranch this month! Devin and I are busy training lots of sweet puppies and raising new litters! Please check out our available puppies and reach out to us if you have any questions or would like to place a deposit for an available puppy! We hope everyone has a wonderful Holiday season!
---
Sugar x Rusty
🎄CHRISTMAS PUPPIES 🎄
Born November 3, 2017
SOLD
Litter Update: Were are getting BIG and Beautiful! Were all a nice big thick puppies! This week we will be introduced to canned food and the outdoors! Our teeth are starting to come in and we will slowly be introduced to solid food during the day!
---
Skylar X Diesel
SOLD
---
Cinch x Faith
Charcoal puppies- $1,500
Ready to go January 13
1 Charcoal Male Available
3 Charcoal Females Available
---
 Puppy Training Program :
These puppies have started in our puppy play training program. We introduce these puppies to all the basic commands, leash training, crate training and house training. They have all their age appropriate shots, and have started on HeartGuard and NexGuard. Micro-Chipped. Full AKC Registration.

Prices of these puppies will increase as their training advances.
Ruger: $1,500
Female chocolates

ready to go by Christmas– $1,250 (prices will increase on these puppies after Christmas)
 
---
Adult Dogs
    8 month old Yellow Females
These sweet girls are sisters. They are completely house broke and trained! They are both spayed and have all their shots. $1,500/each or $2,500 if purchased together! Molly (pink collar) Daisy (blue collar)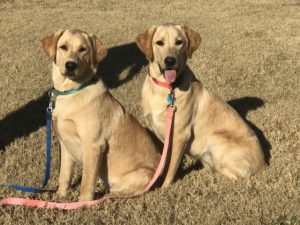 *Available lab puppies for sale in texas, available adult dogs for sale in texas, puppies for sale in texas, dogs for sale in texas, silver labradors for sale in texas, charcoal Labrador retrievers in texas, charcoal labs for sale in texas, yellow labs for sale in texas, chocolate labs for sale in texas, black labs for sale in texas, white labs for sale in texas